Image Carousel with 6 slides
A carousel is a rotating set of images. Use the previous and next buttons to change the displayed slide
Slide 1: ""

Slide 2: ""

Slide 3: ""

Slide 4: ""

Slide 5: ""

Slide 6: ""






Previous
Next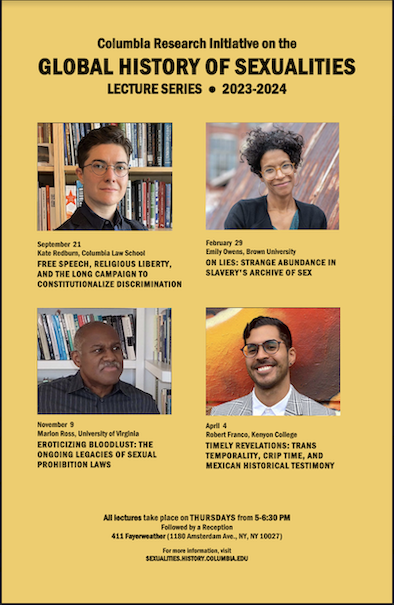 Based in the Department of History, the Columbia Research Initiative on the Global History of Sexualities fosters collaborative transnational research on the global history of sexualities and supports such research at Columbia.
Globally
The CRIGHS organizes small national and international working groups that bring scholars together to explore critical questions in the history of sexuality.  The working groups seek to generate new scholarship on the transnational history of modern sexual regimes, local sexual cultures, global sexual economies, and political conflicts over sexuality.
In cooperation with colleagues in the United Kingdom and Singapore, we are currently organizing our first international working group. This group will bring together historians with expertise in different regions of the world to collectively periodize, chart, and explain the transnational circulation and regional variations in antigay politics over the course of the twentieth century. Two preliminary workshops focusing on eastern Europe and central Asia have already taken place at Oxford University.
At Columbia
We organize occasional lectures and symposia, work with librarians to develop and publicize the university's research collections, teach courses, and advise and provide support to graduate students.
To help foster research on the history of sexuality, we have worked with Columbia's librarians to develop the research guide on this website, which identifies and describes 150 archival collections, oral histories, and databases in the Columbia University and Barnard College library system which may be useful to students, faculty, and other scholars interested in conducting such research.
---
Upcoming Events
Thursday, Sept. 21, 2023 | 5:00-6:30 p.m. | 411 Fayerweather Hall
Free Speech, Religious Liberty, and the Long Campaign to Constitutionalize Discrimination
Featuring Kate Redburn (Columbia Law School)
---
Thursday, Nov. 9, 2023 | 5:00–6:30 p.m. | 411 Fayerweather Hall 
Eroticizing Bloodlust: The Ongoing Legacies of Sexual Prohibition Laws
Featuring Marlon Ross (University of Virginia)
---
Contact
CRIGHS
Department of History
Columbia University
413 Fayerweather Hall
1180 Amsterdam Avenue, MC 2527
New York, NY 10027